Paracelsus used to say: "A magnet should never be missing in any medicine crest."
2 Cosam 8000
suitable to soothe pain and inflammation

                                                      The green side (negative) is anti-inflammatory and
calming
                                                       The red side (positive) is activating, invigorating,
stimulant
2 Cosam 4000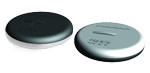 suitable for sensitive areas like eyes, head, veines
                                                      and arthers and small children (age 3 and up) or
                                                      older people.

                                                      It can be used over long periods after treated the
                                                      acute phase with the Cosam 8000 so as to maintain
                                                      a good effect.
White side (negative) is anti-inflammatory and
                                                      soothing
Black side (positive) is activating, invigorating and
stimulant
The Cosam 8000 and 4000 (like all Marah magnets) are protected by a shell in ABS, easy to disinfect and that makes the hypoallergenic magnet.
Each pole of the magnet (positive and negative) has a different effect on the human body:
Negative side is soothing and has an antiinflammatory effect, while the positive side is tonifying and activating.
Biomagnets affect the vibrational state of electrons, normalizing it and thus reducing pain. They increase blood circulation, regenerate cells, activate metabolism and harmonize the energetic level of the organs. Using the magnets right polarity you can obtain a quick armonisation, na increase of energy and a reinforcement of our immune system.
How to use Marah magnets
The treatment of a painful area of our body with biomagnets is rather easy. Anyone can do it any moment, anywhere. Marah magnet doesn't blemish, doesn't stain, doesn't burn. You can apply it using a plaster and let it work for 10 minutes up to 2 hours, depending on the kind of magnet you use and the area you are treating. The action of the permanent magnet is mild, and a very large part of the people react incredibly well to its application.
No side effects are known.
A Marah magnet is permanent, it will last you all your life and you will be sure to have an effective remedy always at hand.
Biomagnets are not suitable for pace-maker holders, pregnant women and children under 3 years of age.
Once the magnet used must be stored with care away from magnetic cards.
Do not apply the positive side of an inflamed area or sore!